Ah, more hot days.  Yay.  It's fine though, I've learned to use them wisely and therefore I am beginning to enjoy them.  One day it will go back down the 90 degrees and I can open a window and smell a fresh breeze besides the fake air from the air conditioner.
Mega Mesh.  This is a much needed item if you have a fly issue and dogs and children that like to go in and out the doors allllll day long.  I have taken to vacuuming up the flies with the hose attachment and the boys think this is a great sport.  I detest flies on the highest scale of detesting something living.  You can order through Amazon and just stick it up in the doorway or slider.  Screens are a pain in the tuckus.  It is like a curtain with magnetic strips so it closes immediately after a person or pet runs through it.  I had no fly issues at the rental.  I just got mine today.  If you order one be sure to measure the door frame.
Book challenges.  The Library has a challenge for the family and you win prizes.  Goodreads has a summer reading challenge also.  I joined the Goodreads and then ordered a pile of books from the library.  I'm back on my Amish fiction trip.  I can't help it, it's so clean and peaceful.  I must have been Amish in a past life.  I also found 31 Days of Living Well and Spending Zero by Ruth Soukup.  I've mentioned her before but didn't know I could get her book at the library!  Super yahoo!
Weight loss challenges.  I've got my summer challenges of weight loss and a new budget.  Then I've got reading challenges and writing challenges.  I would like to lose a chunk this summer and have committed firmly after my husband's remark on my lack of firmness.  Oh, don't worry, I gave him the challenge right back because he's no slim Jim.  I'm really into those premade salads (I preach no premade but these are darn good!).  They are well priced and I'm trying all kinds.  I'll go back to making my own soon and these salads are great for giving me all sorts of delicious ideas on homemade salads.  The dressings aren't free of sugar so I'll have to start making my own.  I'm doing very low carb so I fill up on these salads and apples, some protein in the form of chicken, eggs, peanut butter, nuts, raw veggies, and watermelon.  I have found a delicious sugar free Italian Sweet Cream creamer that I mix with a regular organic creamer.  I know that I have some chemical stuff and premade and packaged stuff.  But that is just how I need to make it fun for me right now.  Juicing and smoothies is a great way to load up on good nutrition, however, it takes work…well, juicing does.  Smoothies are very easy.
To make an amazing super smoothie just use frozen bananas, almond milk, and 2 to 4 types of greens.  The banana and almond milk make it sweet and creamy.  You just have to play with the ratios.  Kale, chard, a little dandelion greens, and spinach are good.  Mustard greens no.
I'm doing 30 minutes on the tread climber and every other day I work out on Bali's weight machine and with my free weights while watching a fun movie.   I watched an old 1947 movie the other day and got a great idea for a bathing suit.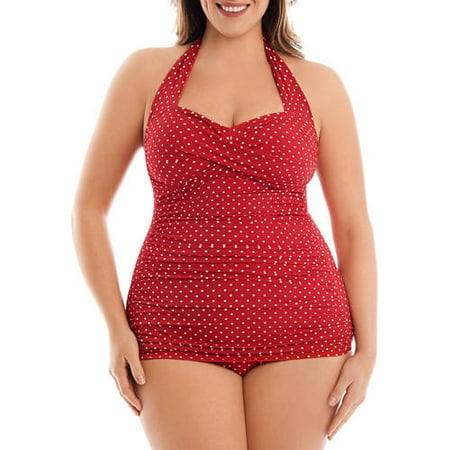 I'm a robust lady and this is perfect!  I love the old style and the slimming effect.  I don't want to avoid the public pool after all.  We also love going to our friends in Marin and lounging by their pool.  There Godmother and I taught the boys to swim last summer and had so much fun.  The bathing suit I wore last summer was very old and inappropriate for the public since I had last worn it before I had "nursing" breast.
Writing Challenge.  I finished the first book and sent the rough, rough draft off to my friend and editor.  I have yet to go back and reread it.  I'm taking the advice I got from Stephen King's book On Writing to write the first draft and then walk away and do something else for a long period of time.  I will read it soon and begin the editing process.  The book had morphed into something so different than what I had planned that I will have to go back and redo a lot of it.  I would like to write at least another if not two other books by summer's end.  I have two already started.
Budgeting Challenge.  Those premade salads definitely aren't on that list.  I'll read the Zero Spending book for motivation and in the meantime, I'm trying to avoid Lowe's and Home Depot, however,  I had to exchange a dying lemon tree.  It worked out well because I have a great Meyers lemon tree now which I much prefer.  But I then just had to have the Secoya tree that we might not have room for and a bird bath.  I'm trying to lure birds with my bird feeders and baths.   But now I swear, no more spending!!!
I took the boys to the Cinemark for Movie Clubhouse today.  One dollar movie for all.  It was Trolls and I truly wanted to see it.  It has such a great message even for us adults.  Sammy couldn't handle the Bergin or whatever it was called and hollered, "Take me home mama, take me home!"  So, we left with our sodas and popcorn and went on over to Lowe's to blow far more than a dollar.  I still want to watch Trolls so I ordered it from the library.
Received my fancy umbrella clothes line and put it up.  What a great clothes line.  I can hang 4 loads of laundry on there.  I love seeing it out in the backyard.  It makes me feel so old fashioned and green.
Each day is hotter than Haiti's so I have spent them organizing shelves and drawers and tackling my desk with all the old paperwork I don't need anymore.  I get out the playdough and art stuff for the boys and we play music all day.  It may be time to visit the coast soon.